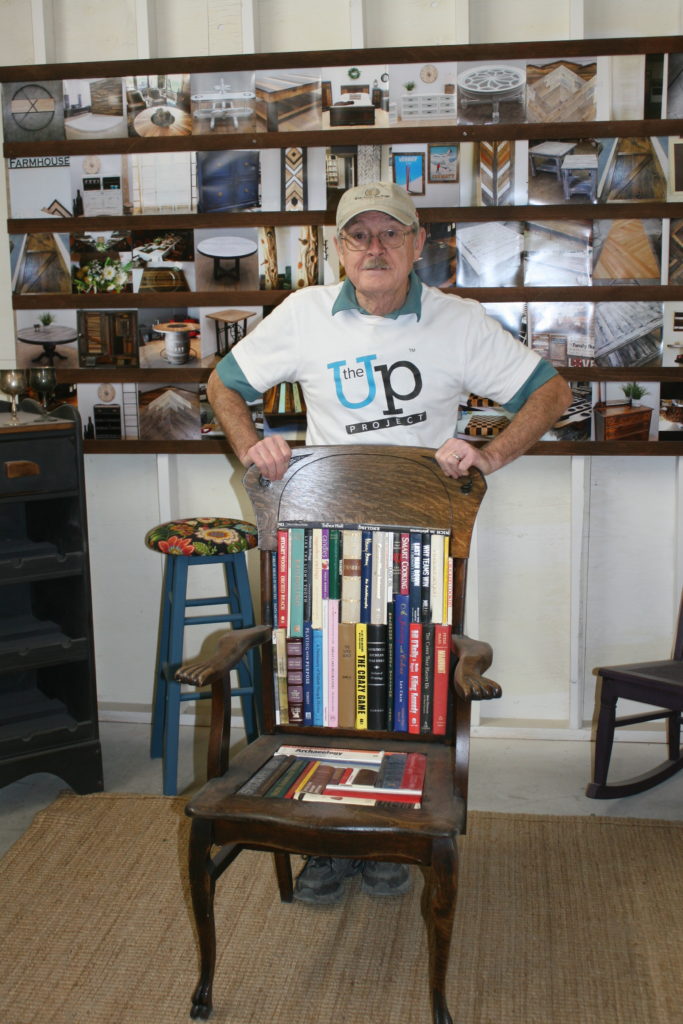 Volunteer Spotlight for the Month of March is Larry Macauley!
How long have you been with Habitat?
 6 1/2 years
Why did you start volunteering at Habitat?
After a trip to Huatulco, Mexico in 2006 I decided that when I retired, I would like to go back and help build homes. A few minute drive to the Habitat Restore was the perfect solution. Not only was I indirectly helping to build homes locally, I was also keeping my mind & body busy as well as meeting and working with a lot of like-minded and friendly people.
What do you do as a volunteer?
After 5 years in the lighting and appliance departments at the ReStores I saw the opportunity to use my creative talents in a different direction, I have since been at The Up Project since its beginning. Wall art & furniture made mainly from pallet wood has become my specialty.
Additional Comments?
Last year we were presented with the challenge of making headboards & tables for a lady that had just purchased a condo at a ski hill resort. The furniture was to be made of all recycled materials & to have a mountain theme. Not only did we succeed but had the opportunity to install them, the hug I received in appreciation for a job well done is a memory I will remember always as the buyer passed away a few short weeks later. This is one of the reasons I have volunteered nearly 5000 hours for habitat.
Manager's perspective
I cannot say enough great things about Larry Macauley, Larry has been with us since the very beginning and is so dedicated to what we do at The Up Project, he has been involved in many aspects of the starting of The Up Project like helping us build the workshop ,helping gather supplies, plan and run events, to coming in with his own great ideas, Larry is always willing to help out as he spends most days at The Up Project. We are very lucky to have Larry's dedication and more so his amazing talents! Since Larry has been with us he has created some amazing one of kind pieces and like he said his specialty is wall art and custom reclaimed furniture. Outside of The Up Project Larry has a passion of wood carving which I have been lucky enough to be given a few of his amazing pieces which I will keep forever. The talent Larry has will not go unnoticed because he is always creating something new and different. Larry is not only one of our wonderful volunteers but is now also a friend that is like family. I have so much respect and appreciation for Larry, The Up Project and Habitat are very lucky to have him.
Thank you for all you do Larry – Lisa-Marie