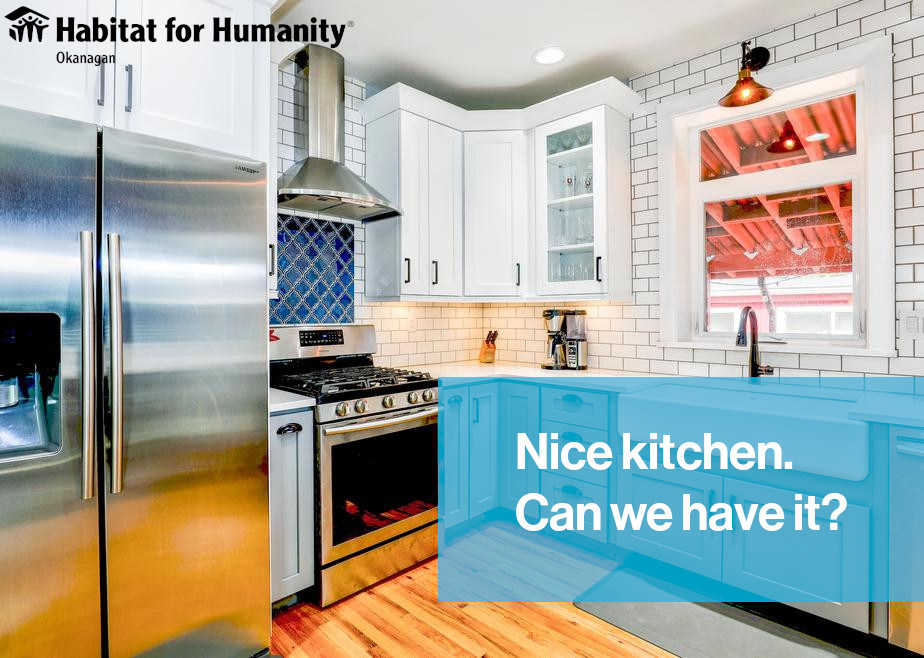 Renovating your kitchen? Want to save some money while you do it?
We can help! It's as easy as 1, 2, 3:
Contact us BEFORE taking out your existing kitchen;
We will evaluate your kitchen to determine if it can be safely removed and reused;
We will schedule a removal date and carefully dismantle your old kitchen and take it away. This leaves you with a blank canvas for your brand new kitchen and saves you the cost of having it done by the contractor.
PLUS you get a gift in kind tax receipt for the resale value of your old kitchen!
Donating useful items to your local ReStore keeps quality goods from going to the landfill, and at the same time helps to fund the building of homes for local Habitat for Humanity families.
Ways to donate your kitchen:
Drop off at a ReStore near you (free service, tax receipt issued)
Curbside pickup. Only available with previous evaluation by our kitchen salvage crew. (free service, tax receipt issued)
Kitchen removal crew. Only available if previously evaluated by a crew representative. Removal scheduled at specific date and time. (free service, tax receipt issued)
We accept kitchen cabinets in a clean, unbroken state with doors and hardware included. Preferred kitchens are joined cabinets, less than 20 years old, that are easily accessible. All kitchens will be previewed before scheduling a removal date.
Our removal crew consists of Habitat employees and skilled volunteers. All power, water, or gas disconnects must be done prior to removal. We will complete pre- and post inspections with the donor to ensure satisfaction.
How long does it take?
 A typical kitchen can be removed in approximately 4 hours or less, providing all disconnects have been completed correctly.
What happens to my old kitchen?
Your donated kitchen will be taken to one of the Habitat Okanagan ReStores and sold to a new home for others to enjoy, thus keeping it out of the landfill.
How much will the tax receipt be for?
The amount of the charitable donation tax receipt will depend on the quality and size of the kitchen. It will be examined and assessed by the store manager on receipt of the cabinets, and based on an estimated resale value. Your tax receipt will be mailed to you.
What else will you accept through this program?
Our kitchen salvage program will also accept and remove major appliances, kitchen sinks and taps, and standard range hoods if approved by inspection, and all disconnections have been made prior to removal. We will also accept bathroom and laundry cabinets as approved.
If your home is going through major renovations, we may be able to assist in additional ways and accept doors, standard windows, and other building products.
To request a pickup, fill out the online request form here.
Other contact information:
Phone 250.862.0635
Email kitchens@hfhokanagan.ca