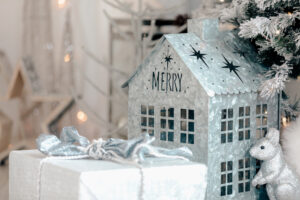 If you're doing some last-minute Christmas decorating and don't know how to go about it, this blog post is for you! Here are nine Christmas décor ideas to make your home look like a Christmas wonderland.
3D Ornaments
Make some 3D ornaments with anything you wish. You can use felt, wood, even Lego. Handmade ornaments are always a pleasure to look at on the Christmas tree.
Snow Globe
Make a DIY snow globe by repurposing on of your old glass jars. Fill the bottle with figurines of your choice, sparkle and snow; and use paint, stickers, or lights on the outside of your jar. Don't forget to put a lid on it so you can shake the snow globe as you please!
Put Cards on Display
Display those beautiful Christmas cards you get from family and friends on a wooden board or some garlands.
Decorate the Mantel
Don't be afraid to go all out for your mantel. Hang some stockings, a wreath, garlands, and stockings.
Kitchen
Many people often don't decorate the kitchen but that doesn't mean you can't. You can hang some garlands over the stove and place some red, green, and white candles on the counters.
Staircase
Drape a beautiful garland over the railing of your staircase. This simple yet elegant decoration can do more than you might imagine.
Plaid
Use a plaid table cloth on your dining table for those days when you have guests for during Christmas celebrations.
Books
Wrap some books with wrapping paper and place them on your bookshelf for some festivity.
Centrepiece
Fill a tall glass jar with candy and use it as a centrepiece. You can also use an old bowl and fill it with some ornaments as an alternate centrepiece.