Winter is here, what a quick transition to the chilly weather!
The Jingle Bell build is the focus of our fundraising activities at this time of year. This event started during the Covid lockdowns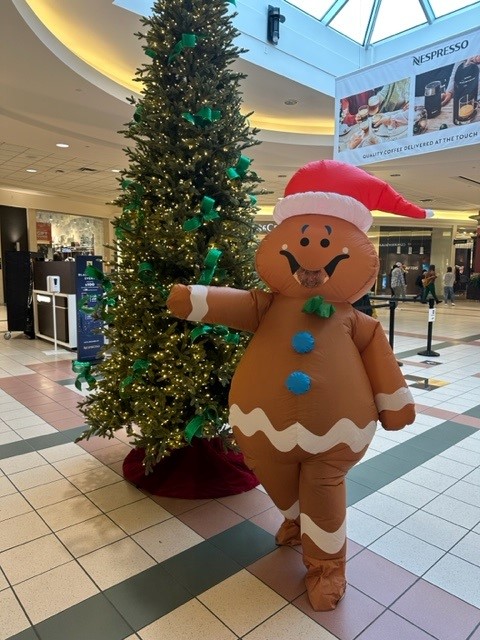 and has evolved to now include in person events.  We recently hosted teams at the Ramada Hotel and Copper Brewing, where there were many crazy and creative designs that impressed the judges.  For the first time, staff members have also been at Orchard Park Mall selling the gingerbread kits, and a new addition to the team was a big hit with the kids! We encourage everyone to join in the next phase and to vote for their favorite entries; www.trellis.org/jinglebellbuild
All eight of the families have now moved into their new homes, we had a videographer on hand to capture the moment when two of them rolled up in their removal vans and started to unpack.  For some of these families, it will be their first Christmas in the comfort of their own homes, its heartwarming to see the positive impact this has had on their lives, we are absolutely delighted for them.
Harmony Homes, builder of the lake country houses, very generously gave back to Habitat with a donation of $40,000.  We are very grateful for their support; all the funds will go towards the next phase of this project which will begin in spring next year.
The ReStores had another good month, thanks in part to the seasonal items.  A shout out to Martina, who volunteers at the West Kelowna store, and work she does throughout the year to get Christmas donations ready for our shoppers, the work she does is very appreciated.
We urgently require volunteers to assist with our kitchen salvage program. These popular items really make a difference to our sales.  Anyone interested is asked to send an email to Katie at comms@hfhokanagan.ca
Finally, as we wrap up another successful year, I want to thank all the staff for the work they do everyday to serve our customers and recognise the great contribution that the volunteers make. Also, a big thank you to our many donors.  This combined effort has enabled Habitat Okanagan to home eight families.  Helping them to build strength, stability and independence through affordable homeownership.
Best wishes to you and your family this festive season.