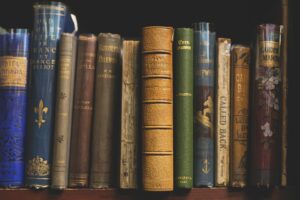 If you have old (or damaged) books lying around, the following ideas as to how you can reuse books might just be for you!
Bookmark
Cut off the cover of a book, drill a small hole at the hope and attach a strip of ribbon through the hole to make an original bookmark!
Make a wreath out of it
This simple yet creative idea will make your guests swoon when they come to visit after the pandemic.
Use pages to make a monogram
This can be a wonderful piece of décor for your room!
Make flowers or even a bouquet
Frame your favourite quotes from pages
They're your favourites for a reason, right? So, why not go ahead and frame these quotes so that you can always look at them?!
Framed book art
If you're not big on framing quotes, you can also use old pages as backdrops for collages or paintings.
Cut them into butterflies…  or turn it into any piece of artwork
Create a card
Planter
This one may require a little bit more patience but the end result is definitely worth it. Use different combinations of books of different widths and stack them to find what works best for you. Then, use a knife to slice out a medium-sized hole, add a lining around the hole and plant away!
Banner
In need of a last-minute banner for a birthday party? This is where old books can come to save the day!
Wallpaper
Cut out pages from old books, even better if they're different sizes and colours, and use them as homemade wallpaper!