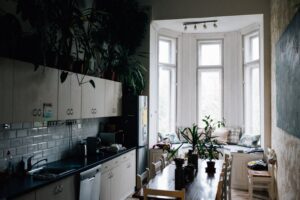 Budgeting
The first step of any sort of home renovation plan is to budget! Make a realistic plan of what you wish to achieve and make sure you can stay on budget.
Clean
Thoroughly clean your kitchen since this can make a huge difference. Clean the counters, floors cupboards and all the appliances – inside and out. Cleaning can also help you understand what you want to keep in the kitchen and what you don't.
Lighten up the Kitchen
A small kitchen can seem even smaller if you don't choose the correct colour schemes. Instead of using dark colours, use softer shades to make the area more welcoming and open.
Make it Sustainable
Dedicate certain kitchen cabinets for storing reusable containers, bags, and old newspapers. All these items can be used numerous times.
Painting
If you are on a strict budget yet still want to change the look of your kitchen, think about painting the walls or cupboards. This is a low-expense idea, but it can completely change the look of the area.
Corkboard
A lot of times, families use a corkboard in their kitchen to keep a calendar of all the activities and events they have going on. The great thing about this idea is that you can make your own corkboard or even upcycle it.
Label Your Containers
Make sure you're not getting confused between salt and sugar! Labelling all of your containers and spice jars is a great way to stay organized.
Wall Art
Let your personality shine by adding wall art or other decorative pieces in the kitchen.