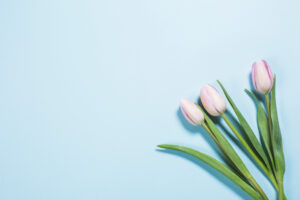 Spring is finally here which calls for some new home décor! Here are some ideas for decorating your home for this new season.
Spring Clean
One of the first things to do after putting away your winter décor is to spring clean. This way you can donate and throw out things you don't need anymore and make your home seem completely fresh which is what spring is all about.
Tulips
I don't know about you but one of the first signs that spring is here for me is seeing blooming tulips. Add a bouquet of tulips to a vase to use as a centrepiece on your dining table – or anywhere else.
Straw Market Baskets
This is a cute way to add some simple décor to a room.
Chalkboard
Getting a chalkboard and writing a spring saying like "hello spring" is an excellent way to invite spring into your house.
Fresh Set of Sheets
What's better than getting a new pair of sheets for your bed? Something as simple as this can make you feel a whole different way.
Spring-Scented Soaps
When most people think of spring décor, they often think of flowers and greens. However other things like getting spring-scented soaps for your guest bathrooms are just as lovely.
Spring-Scented Candles
Walking into a house with a slight smell of spring is a simple way to help you get excited about this new season.  
Neutral Colours
Some colours that are most used for home décor during the spring are white, black, beige, green and blue.
Spring Art
Hang up some spring art on your walls. This can be anything from a drawing of some bluebirds, a painting of a beautiful landscape or some lovely flowers.
Outdoor Seating
Add some outdoor seating to your front porch or your backyard for those warm evenings with your family.
Bird Feeder
Hang a bird feeder to invite the birds to your yard. You can even make your own bird feeder with wood and have some fun by decorating it however you want.