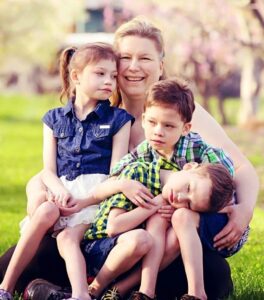 It's been a year now, since we moved into our new little home! Time goes so fast!
We are settling in nicely, but it's a long process. I've still got a storage bin to sort through. One thing about having moved so much, is not unpacking everything completely. Keeping boxes and bins ready for the next move and only unpacking what we need. We spent numerous years living that way. I think I left it that way this last year out of habit, and only in the past couple of months really allowed myself to settle us in. It hit me in October… the realization that we didn't have to move this year!
I've been sorting and organizing on all my days off this autumn so far… and it feels good. My elderly mother wants to move next spring, so I've made trips out to see her to help her sort through her belongings too.
Covid-19 has affected the supports my triplets receive. They do not have any therapists or educational assistants coming in to our home this year, although we did have therapy supports over the summer. That was wonderful!
My older son is wonderful help, so I can work and for a bit of respite. He loves having his own little space downstairs. My work has changed somewhat, as in healthcare we can only work at one facility, due to a provincial health order by Dr Bonnie Henry. I no longer teach adults in healthcare, but increased my hours as a nurse in longterm care. It's a long daily commute to Lake Country – haha! But we really do love our home in Peachland!!! Best decision was to move here instead of waiting for the Lake Country build to be complete.
We love the lakes and mountains here. Lots of wildlife, and close to Penticton where my trio's therapists are. We're hoping to resume therapies if Covid-19 can get under better control.
In the meantime, I homeschool my triplets and we're having tons of fun, with all our supplies so well organized and readily available upstairs. The swing in the living room is my trio's happy place. They take turns relaxing and self-regulating in it.  One of my trio loves using the squeegee to help wash the glass walls – those glass walls are such a relief for this momma!! They are always standing or sitting on something that is the level of the pony walls, so they would've flipped over them for sure. They have no awareness of danger. But my kids are safe, thanks to all of you! We have a home that my kids can enjoy, that is safe and meets their needs.
We are still working on fixing up the yard, with plans to landscape the front with plants, add another small shed or two, and build a deck over the sloped rocky area in the backyard… but it's all coming along bit by bit.
We are thankful, happy and blessed!
– Lisa Potapoff