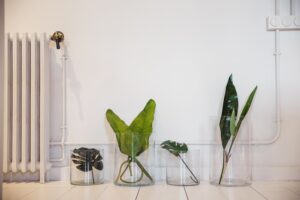 Not all, but most of us have what seems like countless empty jars sitting in our cupboards. And they take up so much space that we have the urge to throw them out. But what if you could reuse them so that you're forever grateful that you didn't end up throwing out those beautiful jars? Well lucky for you, here are some ideas for reusing empty glass jars!
Fill your jar with some water and put in some fresh flowers to create a gorgeous centrepiece.
You can repurpose old jars by planting some bulbs.
Use the jar to hold your breakfasts/lunches. You can use it for oats, salads, and smoothies.
Make some homemade jam and gift it to your family and friends.
Use a jar to peel garlic cloves. It's as easy as popping as many garlic cloves as you need into a jar, screwing on the lid and shaking it until the peel comes off.
Store leftovers. If you are a big cooker, these leftovers could last you a week.
You can use empty jars to hold your pencils, pens or other art supplies.
Use jars to hold your spices, bulk goods, or any other foods.
Fill a clear glass jar with fairy lights, and there you have it – a beautiful room decoration for any time of the year!
Use a glass jar for your nuts and bolts. Jars are truly great for storage, aren't they?!
Jars are great substitutes for kid's party bags since glass is always better than plastic. Fill them with small toys and sweets!
Don't have a cookie jar? Well, now you have one!
Let your creative side take over and make a lovely DIY snow globe!
Glass jars can also be great candle holders.
Fill a jar with some scents that work well together, and you can use this as a room fragrance.