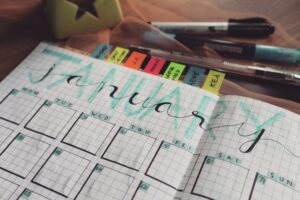 Happy New Year! Starting the year off right means something different to everyone. But here are some of the many things you can do in January to be productive.
Take down your holiday decorations
Taking down your holiday decorations isn't as much fun as putting them up. But after you complete this chore, it'll take a considerable load off of your shoulders.
Post-holiday sales
Hit up the post-holiday sales and get some decorations, wrapping paper for the following Christmas and possibly things for other holidays and birthdays.
Goals
Reflect on the past year and make some goals for the next month and year. These goals don't all have to be productive. It can be anything from travelling to a new country, starting up a garden or sleeping more. Don't forget to write these down though!
Start a 52-week challenge
This is the perfect time to start a 52-week challenge. Maybe pick a challenge that can help you achieve your New Year's Resolution as well. You can also do a 31-day challenge for January if a 52-week one is a lot of commitment.
Thank you notes
Write thank-you notes for the holiday gifts you've received for Christmas. This can be by hand or through an online platform, and it'll only take a few minutes out of your day.
Organize
Whether it be your basement or closet, starting the year off clean is one of the best feelings.