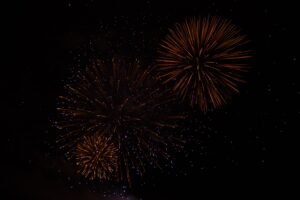 2022 is right around the corner, but if you don't like to celebrate by going out, you are probably already thinking about all the ways you can stay cozy at home! So, here are some ideas on what you can do this week to celebrate the new year without leaving your house.
TV Specials
Spend the night watching some of your favourite New Year's Eve TV Specials with your family and friends!
Scrapbook
Put together a scrapbook of your favourite memories of this year. If you don't have the supplies for scrapbooking, you can also make an online version of a scrapbook. Get out some of your favourite snacks while working on this!
Time Capsule
It's an understatement to say that 2021 has been an interesting year. Write future you a letter, grab some photos from this year and some other special items from this year and put them together in a mason jar. Then, store it in a safe space. Don't get tempted to open it too soon though!
Dinner Party
Throw a dinner party for some of your closest friends and family. This way, you will be able to spend the first second of New Year's with your loved ones.
Board Games
Have a fun board game marathon by playing some of your favourites with some friends. You could play Connect 4, Scrabble, Monopoly (keep in mind that this will take a while to finish though), Jenga, Uno or some classic card games.
Movies
Binge some of your favourite 2021 movies on New Year's Eve while waiting for the clock to strike midnight.
National New Year's Traditions
Do some research on some of the New Year's traditions from around the world and incorporate them into your own celebrations.
New Year's Resolutions
Take some time to reflect on this past year and set some goals for the new year.
Call Friends and Family
If you're not able to physically see your friends and family, you're lucky you can call them with the touch of a couple of buttons.