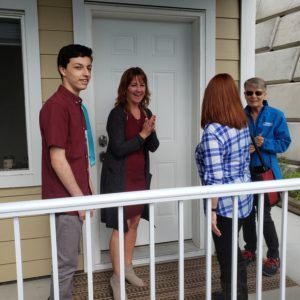 Habitat for Humanity Okanagan presented Lisa Brown with her keys and welcomed her new Peachland home at a celebratory key presentation on May 25th.
"This house means a lot to me. I'm at the point in my life where I don't want to rent anymore. I want to start investing in a place of my own, a place where I see myself living for a long time.  I'm really excited for my son, Isaiah, to finally be able to settle into something permanent and build some memories there."
"It feels incredible to hand over the keys to Lisa who contributed 500 volunteers hours to Habitat leading up to this day" said co-CEO of Habitat for Humanity in the Okanagan Lorraine Richmond "All Habitat homeowners make this commitment, and in turn, Habitat offers affordable homeownership which has life-changing impact on their lives and their children's lives"
To qualify as a Habitat Family, at least one person in the family must be working full time, the family must have lived in the Okanagan for at least 2 years and the family must commit to contributing 500 volunteer hours to Habitat to help build their home.