Habitat for Humanity Okanagan was lucky to be the chosen charity at the 2023 Kelowna Spring Home Show. This year marked the 25th anniversary so we were expecting large crowds; and we sure got it! The turnout and support for the event was wonderful to see and it gave our team and volunteer staff a lot of opportunities to inform the public about all of the wonderful programs Habitat Okanagan offers.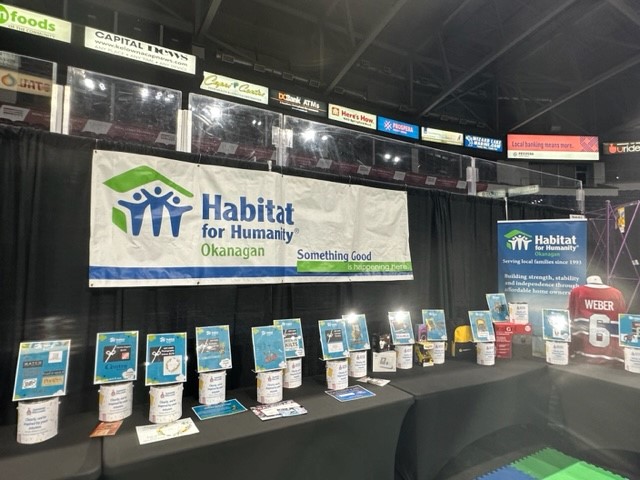 We also ran a very successful chip sheet raffle with a array of amazing prizes donated by local companies and show vendors. We had items ranging from an Instant Air Fryer to a Ryobi tool set, from a signed Shea Weber jersey to a $2,500 Canada's Best Decks and Railings gift card. There truly was something for everyone!
The draw was completed on Monday February 27th and we are pleased to announce the winners to you here:
$2,500 Canada's Best Decks & Railings gift card: N Leatherdale with ticket # 1357069
Riley Outdoors waterproof backpack: D. Snuggs with ticket # 1357152
Amazon Echo Dot courtesy of Normandeau: L.Ashby with ticket # 1357163
Fortis emergency car kit: S. Engene with ticket # 1357104
Frigidaire stand mixer from London Drugs: J.Primeau with ticket # 1357020
West Kelowna Warriors ticket package: C.Packer with ticket # 1357138
$250 Men in Kilts gift card: N.Harrison with ticket # 1357032
Signed Shea Weber jersey: J. Hawes with ticket # 1357072
Google Nest & smart lights courtesy of Source: C. Eby with ticket # 1357162
$175 Southern Belle photography gift card: G.Lang with ticket # 1357075
Chandelier thanks to Home Hardware: R.Lindsay with ticket # 1357146
Instant Vortex air fryer from Walmart: J.Heinrichs with ticket # 1357045
Pacman game & mini speaker from Walmart: C Packer with ticket # 1357138
Full natal chart reading from Wild Sky Sisters: R.Lindsay with ticket # 1357146
Ryobi Tool set from Home Depot: N.Larson with ticket # 1357066
Full season pest control with Buzz Boss: A.Dohms with ticket # 1357121
Wheelbarrow courtesy of Andrew Sheret Ltd.: C.Johnston with ticket # 1357076
Taste of Kelowna Restaurant gift card package: T.Waterford with ticket # 1357177
Composter thanks to RDCO: T.Plummer with ticket # 1357087
Handmade quilt: N.Morin with ticket # 1357147
$100 ReStore gift certificate & jacket: L.Kavanaugh with ticket # 1357041
Lashes and liner courtesy of Tori Belle Cosmetics: A.Smith with ticket # 1357159
Children's birthday party with Kiki the Eco Elf: A.Adams with ticket # 1357006
Telus package including Google Chromecast: S.Engene with ticket # 1357104
Pair of Kelowna Rockets tickets and dinner package: P.Weninger with ticket # 1357074
$100 Home Deport gift card from Centra Windows: L.Moore with ticket # 1357016
Whiterock hard case cooler courtesy of Martin Motorsports: Martin with ticket # 1357068
Soft flip top cooler thanks to Sunshine Leisurescapes: G.Gulyas with ticket # 1357125
Outdoor privacy screen from Mountain View Building Materials: B.Hunter with ticket # 1357091
Congratulations to all of the lucky winners and thank you to everyone who supported Habitat for Humanity Okanagan by donating a prize and/or purchasing a ticket.