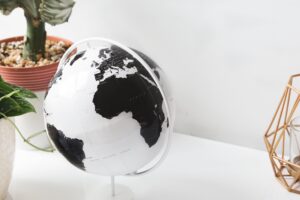 By buying items at ReStore's, you're not only helping yourself by finding some pretty cool things but you're also aiding your surrounding community. ReStore's ultimate goal is to build strength and self-sufficiency, which helps Habitat for Humanity's worldwide mission of building homes filled with happiness and hope. You too can show your support by shopping and/or donating to ReStores.
Habitat for Humanity's ReStores are home to almost everything and anything. You'd be surprised to discover some interesting finds—even things that are not couches and coffee tables. Here are five items that you can find at ReStore's that you may not have known about!
Art & Décor                                                                                             
Instantly improve any room with artwork – from abstract wall art to picture frames, we've got it! Putting up a painting in your home is the perfect example of how minimal work can cause extraordinary results!
Tacos Cup Set                                                                                                   
Did someone say that they absolutely needed a taco cup set? No? Well, you will once you see just how cute this appliance is. Gift it to others or keep it for yourself. You can even mix it up a little with a s'mores cup set.
Lights                                                                                                               
Add a little bit of glam to your home—inside or outside—with chandeliers, cage lights, or a table lamp for your bedside.
Accidental Finds                                                                                         
There are always going to be those items that you just didn't expect to find, whether it be a hair straightener, a leather saddlebag, or a PS3 game. In my opinion, these are definitely the best kinds of purchases!
Movies & Video Games                                                                                 
Call of Duty, Toy Story… We've got you covered!
Maybe next time, you'll be the one to stumble upon something unexpected at a ReStore! Make sure to let us know all about it!