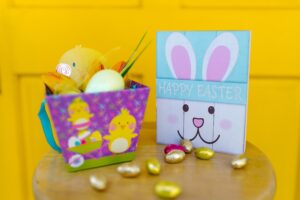 Since Easter is coming up soon, here are some fun and creative ideas you can use to redecorate your home for this holiday!
Egg Basket
Paint a collection of eggs and place them in a vase or basket to use as a centrepiece. You can also fill the basket with some flowers that match the colours of your painted eggs.
Flower Wreath
A floral Easter wreath will scream Spring. Hang this wreath on your front door welcoming guests for Easter celebrations you may have. You can either make this wreath by hand or buy it from a store. There are also many other types of Easter wreaths you can hang up!
Garland
Make a colourful egg garland to hang around your house. You can also make one of Easter bunnies.
Easter Egg Balloons
Surprisingly, upside-down balloons look a lot like Easter eggs.
Easter Egg Tree
Hang your decorated Easter eggs on a small festive tree.
Chalkboard
Put up a chalkboard outside of your home saying "Happy Easter". You can even draw some cute bunnies on it.