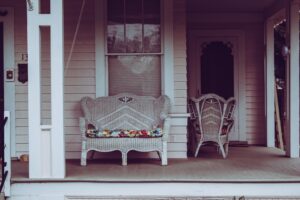 Spring is almost here! And that means that you get to redecorate your house to match the season outside. Here are some great ideas on how to decorate your front porch to celebrate the beginning of spring.
Throw Pillows
Choose some colourful throw pillows to put out on a bench to welcome your guests.
Flowers in a Bucket
Plant some vibrant flowers in a large metal bucket. There is nothing more welcoming than coming home to spring flowers to greet you.
Wreath
Who said wreaths were only for Christmas? Hang a homemade flower wreath on your front door. You can decide if you want to use real flowers or not! If you're not that confident in your artistic abilities, like many of us are, you can get a store-bought wreath instead.
Potted Plants
Arrange some potted plants leading up to your house to invite the bees to your front yard.
Sign
Put up a large colourful sign like something that says "Hello Spring!". You can decorate your board with flowers or other bright objects.
Watering Can
Place a watering can on your porch that matches the rest of your decorations. You can even dress up your can by placing some bulbs in there.
Birdhouse
Invite birds to your yard by putting up a beautiful birdhouse. If you don't want to buy a birdhouse, you can make one too – this can be your fun Spring project!
Upcycled Rain Boot Planters
If you have an outgrown pair of rain boots at home, you can upcycle them by turning them into planters.