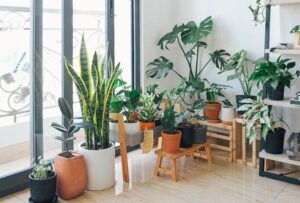 Are you stuck on how to creatively display your plants indoors without using too much floor space? Here are some easy and fun ideas on how to do so!
Floating Shelves
Installing some floating shelves around your home is a great way to utilize space around corners or other places around your house. The great thing about this is that there are so many different styles and patterns you can use. It can be rectangular, triangular, wooden, and be any colour you wish!
Window Sills
Place potted plants on your window sills. Your plants will be thanking you as they're basking in direct sunlight.
Hanging Plants
You can free up valuable floor space by opting for hanging planters. Hang them in front of a window or a stairwell.
Climbing Plants
Get climbing plants and place them on higher surfaces.
Centrepiece
Make a gorgeous centrepiece for your dining table with some plants or flowers. This is a simple idea but can transform any living area.
Potted Plants
Get creative with your potted plants by using unique designs and bright colours.
Use Plants as Dividers
If you have large open floor space, divide your rooms with some large plants.
Ladder
Put your plants on a wooden, rustic ladder which is not only a great way to free up space but also creatively decorate any room.