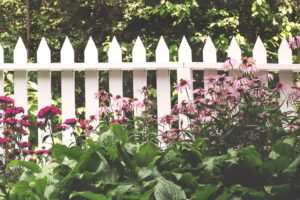 Whether you have a small garden space or an elaborate and extensive one, these ideas will be sure to give you some inspiration for stunning additions to your garden!
Rock Border
This idea requires minimal work. All you will need to do is dig a shallow trench around the space in which you want the rock border to be in and fill it with rocks – purchased rocks or rocks gathered by hand. The rock border can be perfectly tailored to your taste depending on the rocks you choose.
Garden Boxes
You can either build your own garden boxes or purchase them! You can have as much fun as you want when deciding on garden boxes from the shapes to the colours you choose. Who says garden boxes can't be bright pink?!
Outdoor Table
An outdoor table is perfect for BBQ nights or those days when you wish to do your work under the sun!
Garden Pond
This one may require a bit more time and materials; however, the end result is definitely worth it! There are many ways to decorate a garden pond so have fun finding what's best for you!
Garden Benches
Garden benches can be the perfect way to enjoy a cool Spring day overlooking your lovely garden. These benches can also be styled with throw pillows and painted with colours that match the plants in your garden. You can even upcycle benches which may in some ways be easier than purchasing a new one!
Stone Path
Not only is a stone path beautiful but it also serves as a convenient way to travel from one side of your lawn to the other without stepping on any plants which you've worked hard to grow.
Patterned Flower Bed
Everyone loves a beautiful flower bed!
Garden Statues
There is a whole range of garden statues that you can choose from, so it is without a doubt that you will find something that matches your needs.
Birdbath
Whether you end up lining the birdbath with flowers, designing it with bright colours, the birds will love it!
Archway
This one requires a bit more skill and space, but just like the garden pond, the end result is worth it! The archway can be crafted from flowers, greenery, stone, or anything else you wish!
Fence Planters
Whether you're running out of space on your lawn or you simply want your fence to be more eye-popping, fence planters are the way to go! This idea is easy to put together since it only involves putting up hanging containers on your fence and setting up plants and flowers in these hanging boxes.
Treehouse
A treehouse isn't only a fun addition but it can also provide perfect shade for plants.