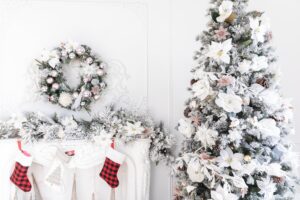 Christmas has passed, but that doesn't mean you have to pack up all of your seasonal decorations! Making your home cozier can do a lot to improve your mood since most of us will be staying inside for most of these next few months with the drop in temperatures and new pandemic regulations. Hopefully, the following tips might inspire you to style and decorate your home to match the season outside!
Decorate the Fireplace
There are so many ways you can decorate your fireplace! Highlight the fireplace in your home by hanging up stockings (even if you don't plan on putting stuff inside of them), lighting candles, placing garlands along the side or putting up wreaths.
Gift Wrap
Wrap old boxes or books with seasonal wrapping paper. You can place these anywhere in your house or even put them outside to add a dash of colour.
Winter Centrepiece
It's as simple as adding a couple of pinecones, evergreens, flowers, and faux snow in a glass jar to the coffee table in your living room to put you in the holiday spirit.
Ornaments
Ornaments aren't only for Christmas trees! You could hang ornaments around your mirror, hang them on garlands or place them in glass jars to make for wonderful centrepieces.
Staircase
Line your staircase with lights, candles, or garlands.
Add Colour
Use red, burgundy, silver, purple, blue and/or green to celebrate the season.
Textures
Winter is the perfect time to use plaid pillows and knit/fur blankets!
Bring the Outdoors Inside
Bring greenery inside in the form of garlands, an evergreen green, or pinecones. 
Wreaths
Add a wreath to the front door of your home – or any door! You could buy a wreath or even handmake it.
Scents
Use cinnamon sticks, vanilla beans, natural greenery or other scents to make your living space smell like the holidays! Another option would be to light scented candles. To add even more festive decoration, you could style your candleholders with ribbons!
Style Your Front Porch
Here are some ideas on what to use to make any drab porch be in perfect style for winter: using greenery, lanterns, decorative entry mats, hanging baskets, a seasonal wreath, log sticks or blankets.
Candy Canes
Make a string of candy canes…or gingerbread men to hang up somewhere around your home.