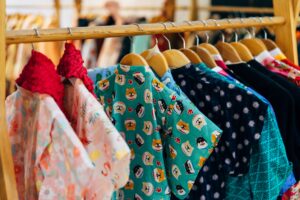 Whether we use clothing to cover our bodies or to express our personalities, it's undeniable that it's very important to a lot of us. Since it's so important, upcycling them is a great way to not only reuse old clothes but to also find creative ways to wear clothing! So, here are nine simple ways to upcycle your old clothes to make them seem like they're store-bought!
Tie-Dye
Have an old t-shirt that you don't like the style of any more? Then, tie-dye it! This is an easy and fun DIY project that will give you a t-shirt that seems new.
Headbands
Braid together an old t-shirt to create a gorgeous headband!
Tote Bag
Making a tote bag only requires an old t-shirt, scissors and markers!
Rug
Just braid together some old t-shirts and there you have it – a stunning one-of-a-kind rug for your home.
Beach Pillows
If you have any worn-out jeans or jeans with broken zippers, instead of throwing them out, go ahead and make a stunning beach pillow out of them. This project does involve a little bit more work with a sewing machine but the end result is worth it!
Bleach
Take an old pair of leggings and a bleach pen and have fun styling it to your desire. There are so many ways you can go with this!
Side Strip Pants
Grab a pair of jeans, 1-inch velvet ribbon and iron-on adhesive tape. After securing the ribbon onto the side of your jeans, they will look completely new!
Denim Skirt
All you need to make a denim skirt is an old pair of denim jeans!
Face Mask
Don't have a reusable cloth face mask? Well, what if I told you that you could make your own with just a t-shirt and scissors?!