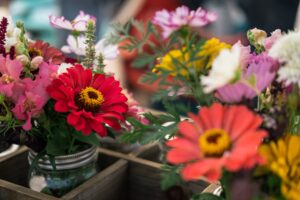 Summer is here! Although it may mean beaches and sunshine for many people, it also means redecorating your home once again for the summer season! Here are 11 ideas that you can incorporate into your home!
Tissue paper lanterns
Choose some vibrant colours for summer lanterns for the inside or outside of your home! This DIY project is fun, easy to make and has results that are worth it.
Pops of colour
Use floral bedding or even hang up some paintings that use an array of colours to bring summer inside your own home! Put up some fresh flowers into a vase, or use vibrant kitchen appliances when cooking. This can make your rooms more bright and cheerful.
Furniture outside
Set up a table and some chairs outside under a tree. Decorate it with colourful pillows, flowers, and breezy blankets. This shady spot might just be your favourite place to host BBQs this summer!
Door wreath
Wreaths aren't only for Christmas! You can also create a beautiful hanging door wreath made of bright coloured flowers of different shapes and sizes.
Curtains
A light, flowy curtain can shield the sun while still allowing some light in on extremely hot days.
Go beachy
Summer isn't perfect without some beach fun! So, why not also include some beach-inspired decorations like ropes, beachy paintings and turquoise pillows and blankets.
Shells
Whether they're store-bought shells or shells you've picked up from beaches over the years, there are many ways you can use shells to decorate your home. For one, shells can make gorgeous wall decorations!  
Mason jars
Fill up mason jars with shells or fresh flowers. These can make lovely centrepieces or you can just use them to brighten up any space in your house.
Picnic table
Set up a picnic table outside that can substitute for your dining area for the next couple of months.
Outdoor lights
Choose some bright summery lights to hang outdoors like fairy lights or lanterns. This will truly give you a magical feel on those cool summer nights!
Party table arrangement
Be creative this summer on how you set up your dining table! Don't be afraid to use bold colours. Use leaves and flowers on the table. Serve drinks in coconut shells, and you can even add a gorgeous centrepiece to your table.