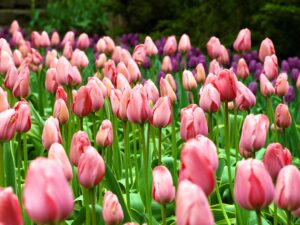 The best way to start off the spring season is by decorating your home! Here are some ideas to decorate your living space.
Living Room
Something as simple as rearranging your furniture can help make your living room seem like a whole new space. It's without a doubt that a lot of us are most excited for more sun after a gloomy Winter and so why not make use of curtains with lighter tones to allow the sun in! After a long Winter, your living space might also be very cluttered so spend some time cleaning as you decorate.
Porch
Decorate your front porch by adding plants to each side of the steps leading up to your home. Another idea is to add hanging baskets filled with whatever you wish – plants, flowers or nothing at all. Also, add a spring-themed rug in front of your door that will be sure to make your visitors smile!
Entryway
Use chairs, stools or mini tables to display greenery that will be ready to meet any guest!
Dining Area
Freshen up your shelves with spring-coloured plates, mugs and bowls and other bright appliances. You may even want to paint your cabinets fun spring colours! Other ideas include switching to a garden-themed dish and table cloths or using fun floral arrangements and centrepieces to brighten up the space.
Fireplace Mantel
Decorate your mantel with whatever you choose, whether it's art, a decorative clock, a wreath, paintings, a chalkboard, plants and flowers, or lanterns and candles.
Bedroom
Update your bed sheets and pillows with spring colours and designs and add a patterned headboard for your bed! You could also add some garden-inspired wallpaper or switch up the paintings in your room. Take that extra step to make your room smell amazing by using floral or citrus candles.
Other Ideas
Since Spring is the season of newly blooming flowers, feel free to add as many plants and flowers around the house! You could also accessorize the hallway with fun wallpapers, shelves, and other greenery – real or faux.
Being stuck at home for the past year can have its cons but it also has many pros like being able to spend more time in the comfort of your newly decorated home. Have fun decorating!