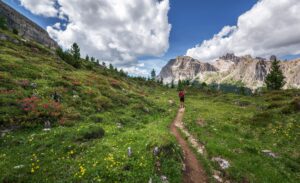 Here are some ideas for things you could do this Spring – many of them without even leaving your home.
Picnic
Spring is one of the best times to have outdoor picnics since there aren't many insects outside yet. So, bring a blanket, a couple of friends, some food and spend an afternoon outside in the sun!
Orchard blossoms
Orchard blossoms are filled with eye-popping colours and fruits such as cherries, peaches and plums. Luckily, there are many Kelowna orchards that should be a must-see on your list. Some of these orchards include Kempf Orchards and Arndt Orchards. From cherry blossoms to peach picking, these orchards have it all!
Biking
You can bike on trails near your home. However, if you're more into mountain biking, there are multiple trails for this as well. A favourite among mountain bikers is the Crawford Trails in Kelowna.
Hike
There are numerous hiking areas that are perfect for spending a day outside in the spring. You might want to check out the Pincushion Mountain Hiking Trail which has amazing views and many trees. Another hiking trail is the Rose Valley in West Kelowna. This breathtaking area has many trees and little to no mud.
Walk
Go for a walk in your area! Make sure you don't forget your camera since you do not want to miss out on capturing breathtaking photos of flowers just beginning to bloom and trees showing off their greenery after the cold winter.
Build a birdhouse
You can build a birdhouse by using new-bought materials, a birdhouse kit or you could use upcycle your own birdhouse – they all work! This is a fun activity to invite birds to your yard. Have fun with the way you build the birdhouse and how you decorate it!
Plant a garden
The saying "April flowers bring May showers" exists for a reason, right? So, why not go ahead and plant some lovely flowers. Or you could also plant a vegetable garden!
Sidewalk Art
Grab some colourful chalk and decorate your sidewalk!
Camping
The great thing about camping is that you don't have to leave your house to do it if you don't want to. A safer option than travelling out of the area to camp might be to just camp in your own backyard!
Go fishing
Enjoy a small fishing trip to a nearby lake with your family or some friends!