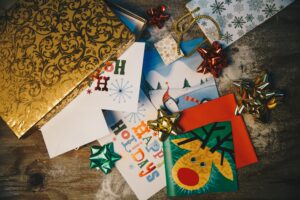 It's that time of the year again – the Christmas season! Whether you're already looking for Christmas gifts or going through ones you've gotten in the past, holiday cards are an important factor in all seasonal gifts. You might have a lot of seasonal cards from old teachers, friends, aunts and uncles, and coworkers lying around. Don't throw them out yet though! Here are some ideas as to what you could do with old holiday cards.
Organize them
If you can't bear the thought of discarding cards, you can organize them into a binder to look back on later on. This will provide to be a reminder of how much your dear ones love you!
Donate them
Surprisingly, many organizations take holiday cards which will be given to kids to craft into something new. Do a little bit of research on what kind of organizations or even schools take donated cards in your area.
Recycle them
If the card is made of paper, you can recycle it.  However, check to make sure that there aren't any ribbons, flitter, foil, or felt since you have to remove these before recycling the card.
Make gift tags
A popular way to reuse old holiday cards is to cut out the pictures and words to make gift tags for the following Christmas.
Make bookmarks
Since cards are made of sturdy material, making bookmarks out of them is a fun way to get crafty.
Make ornaments
Another way to get artsy is to make ornaments out of the pictures in your cards. The best thing is that ornaments aren't only used for Christmas trees, they can also be hung on ceilings or for other decorative purposes.