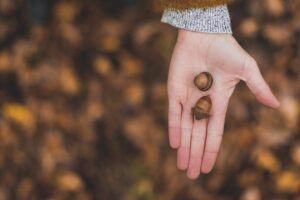 For the season of pumpkins and plaids, doing something a little extra is definitely necessary to welcome Autumn with beautiful home décor! Here's how you can decorate your home to perfectly fit this season.
Autumn Wreaths                                                                                           
Use artificial Autumn gourds, mini pumpkins, pine cones, leaves, acorns and berries to make yourself a lovely Autumn wreath to hang on your door or set up inside of your home. Wreaths aren't only for the Christmas season!
Cornucopias               
Cornucopias are usually used for Thanksgiving, but they make great decorations throughout the entire Fall season. It's filled with fruit, vegetables, gourds and flowers and will surely transform your home.
Decorate Your Entrance                                                                             
Who says decorations are only for the inside of your home? Decorate your entrance with pumpkins, seasonal flowers, and autumn wreaths!
Pumpkins, Pumpkins, Pumpkins                                                      
Pumpkins are such a huge seasonal favourite, it's hard to forget about them! Place pumpkins around your house. You can even have a little fun by painting patterns on these vegetables or carving them.
Autumn Colours                                                                                             
Use Autumn colours around your house – red, burnt orange, yellow and brown.
Leaf Art                                                                                                           
Have a little fun by picking leaves from outside and using it to make art that you can even hang up!
Bring the Indoors Outside                                                                         
Decorate your backyard or balcony with fairy lights, plaid blankets, throw pillows, and lanterns.
Decorate Your Dining Table                                                                       
Using plaid fabrics, or a vase of seasonal flowers to decorate your dining table can make you excited to even eat just because of how beautiful everything looks. You can also create centrepieces with faux gourds, pumpkins, apples, and sunflowers!
Candles                                                                                                         
Bring the Fall scents into your house by buying spruce and pumpkin spice scented candles!
Have fun decorating!