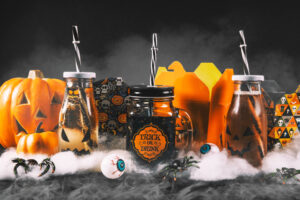 Halloween is right around the corner and you know what that means – ReStores are going to be filled with Halloween decorations for your home! Here are some ideas on how to get your house ready for this spooky holiday!
Floating Witch Hats: Hang some witch hats from the porch ceiling using some string to greet guests and trick-or-treaters as they walk up to your house.
Pumpkins: Grab some pumpkins, decorate them and place them on the stairs leading up to your sidewalk. You can even string white holiday lights around them.
Bats: Put up paper bats on the railings of your stairs so they flutter when you walk up and down the stairs!
Spiderwebs: Buy a plastic web or even make a DIY one to put under the stairs of your house.
Wreath: Who said wreaths are only for Christmas? Make a Halloween-themed wreath by stringing some candy corns together or putting together some other stuff. You can hang this wreath on any door in your home!
Monsters: Cut and tape some template monsters on the inside of your window.
Ghost Chair: Use a marker to draw up a monster face on a white sheet. Drape this sheet on a chair to make a spooky ghost chair.
Garland: Make a candy corn garland to drape above your fireplace!
Scary Signs: Hand-make some scary signs that say things like "R.I.P.", "Go back", and "DANGER!" to put in your front yard.
Banner: Make (or buy!) a banner that says "Trick-or-treat!"
Potion Bottles: Grab some old bottles and fill them up with coloured juice along with fake bloody fingers or gummies. Instead of juice, you can also use water and food colouring.
Skull Centrepiece: Put a cup inside of a faux skeleton head and fill the cup with some beautiful flowers. Now you have a gorgeous, yet also scary, centrepiece for your dining table!
Black Plants: Buy some faux plants (with a black plant pot) and spray them with black spray paint to place inside of your house.