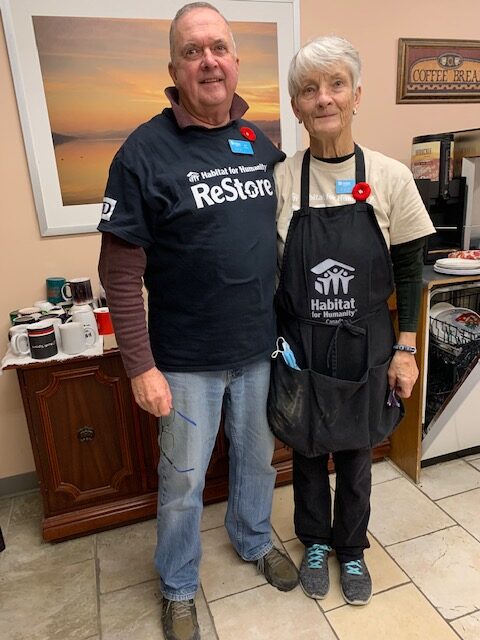 INTRODUCTION: Ken and Carol Finlayson, West Kelowna ReStore Volunteers
WHAT MADE YOU DECIDE TO COME AND VOLUNTEER AT RESTORE?
We moved to West Kelowna from Alberta in 2013. As retirees, we were looking for volunteer opportunities in the area and decided that the Restore might be a good fit for us. We had always been involved in volunteering wherever we had lived and wanted to continue in that tradition.
HOW LONG HAVE YOU BEEN VOLUNTEERING AT THE RESTORE?
We have been volunteering at the West Kelowna Restore for eight years. When we first started, the westside store had only been open a few months. Over the years, we have seen how the operation has grown.
WHAT DO YOU ENJOY MOST ABOUT YOUR VOLUNTEERING EXPERIENCE?
While volunteering, we have met so many wonderful people. There have been lots of laughs and we have learned so much from our experiences. You just never know what will come through the door in the way of a donation! And of course, you get tremendous satisfaction from seeing your efforts contributing to a deserving family obtaining a home.
WHAT ADVICE WOULD YOU HAVE FOR ANYONE LOOKING TO GIVE THEIR TIME AND RESOURCES BY VOLUNTEERING?
Over a lifetime, everyone learns skills and acquires knowledge. There is something for every volunteer to contribute at the Restore. Whether it is trade skills, organizational skills, management experience, or people skills dealing with customers, there is a place for you at the Restore. You also have the flexibility of donating your hours according to your schedule, unlike the pressures of regular employment.