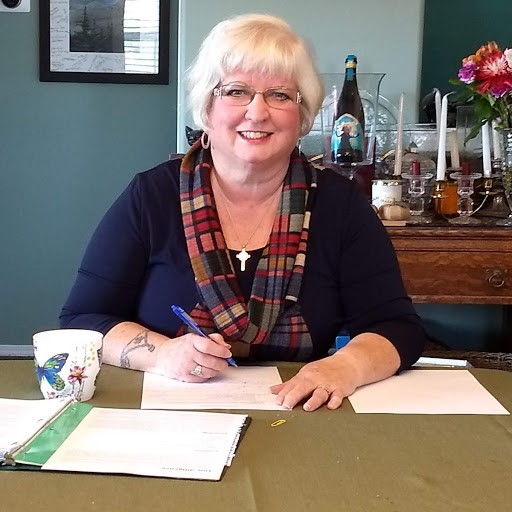 Volunteer Spotlight for the Month of October is Loretta Cooper!
How long have you been with Habitat? 
3 years, since October 2016.
Why did you start volunteering at Habitat?
When Jimmy Carter got involved in HfH, I was very interested in the organization but didn't have time to become involved. After moving to West Kelowna and retiring I knew I wanted to start volunteering.  The first place I started volunteering was HfH.  I started in the ReStore. My retail skills were rusty, and I really thought my skills were more useful at a committee level, but I worked in the West Kelowna ReStore. A year later, I was asked to be on the Family Selection Committee, as well.
What do you do as a volunteer?  What is meaningful about your volunteer contribution?
I volunteered for 2 1/2 years in the ReStore, re-organizing and taking care of the Books & Media section.  As the books were organized by genres, I was able to track that our best sellers were Romance, Thrillers, then Mysteries. I really enjoyed taking pride in the Books & Media section. In February of this year I had to give up volunteering in the ReStore as my time commitment increased for FSC.
The Family Selection Committee was the work I really had the skills for.  As a retired Licensing Officer, I was trained and experienced in interviewing for assessments and investigations.  I also knew how to write reports and policies. I joined the FSC with 3 long time members and 6 other new members, Expansion in the organization as well as the committee, caused us to redefine our roles, policies and procedures. We all jumped into the work whole heartedly. 
This spring I took on the role of chairing a sub-committee to rewrite the policies related to the Homeownership Program.  So far, our committee of 4 has rewritten 4 policies: Selection Criteria, Housing Need, Ability to Pay, Willingness to Partner.
As a few FSC members came and went I noticed new members needed more training in how to "interview the Habitat way" we had developed over the last two years.  I'm now also chairing another sub-committee to develop a training program, including workshops on "Interviewing the Habitat Way." Two of us are currently developing a curriculum for a series of 3 workshops based on what the members of the FSC has learned from experience over the past two years.  
Additional Comments?
In February 2019, the FSC took the bold move of holding a "Do I Qualify?" session to attract applications.  We hoped for 25 families to show up.  Well, 180 families showed up!! And over 100 application packages were handed out. By June we had 193 applications, when in all of 2018 we had a total of 119. After the office had sorted the applications and determined whose application met our guidelines, they moved to the FSC for the next steps.  The next steps include two home visits and interviews, by FSC members, to determine suitability based on the Three Pillars: Housing Need, Ability to Pay and Willingness to Partner.
Two members of the FSC do a 1st Home Visit and Interview.  After the interview each member does a report and an assessment that goes to the FSC.  If the applicant family meets the criteria of the Three Pillars, they move forward to a 2nd interview with another two members of the FSC.  After the second interview the members also each write a report and assessment, which goes to the FSC. The FSC then determines if the applicant family is forwarded to the Board of Directors to become a family that may get a Habitat home.
From March through October the FSC has been very busy doing 1st and 2nd interviews, as a result of the doubled increase of applications. In 2018, I did 5 interviews, in 2019, so far, I have done 9.  It is very satisfying and inspiring meeting these families in their homes and hearing their stories, challenges and dreams.  And especially to hear of their hope for a Habitat Home.
Manager's perspective.
Loretta is one of Habitat's champions.  She has contributed 440 hours of her experience, her talent, her time, her positive attitude, initiative, innovation, leadership and her ability to 'tell it like it is' while holding the space for compassion, care and generosity.
Why is Habitat for Humanity Okanagan such a great organization?  Because of volunteers like Loretta.
Thank you for everything you do at Habitat Loretta!