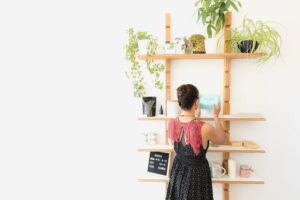 Floating shelves come in various shapes, sizes, and designs and are perfect for storage purposes or even aesthetics. Below are some ideas as to how to use floating shelves. 
Display Art: You could put up paintings, China and other art on these shelves.
Blank spaces: If you have any blank walls that you're not sure how to decorate, use some floating shelves to accessorize.
Display Books: This is a creative and fun way to display some of your favourite books.
Plant Display: Don't have any space on your floors to house plants? You can easily just use some floating shelves.
Storage: If you're running out of storage, floating shelves are a great way to solve this problem. You can put anything on these shelves from dishes to bathroom storage items.