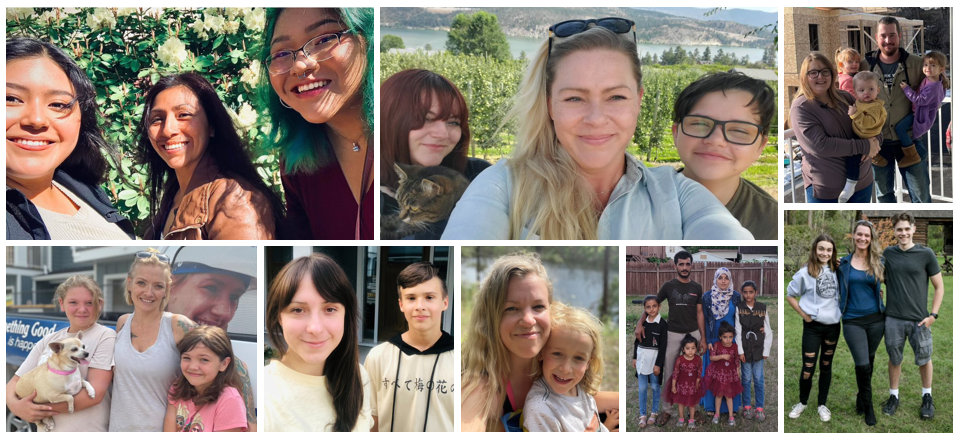 Lake Country, BC.  Habitat for Humanity Okanagan officially welcomes eight Okanagan families to their new homes with a key ceremony today, thanks to an army of community partners and volunteers that have worked tirelessly to help us reach this milestone. These new homeowners will be the first of 12 families who will call the community of Lake Country, BC home.
Habitat Okanagan's key ceremony coincides with World Habitat Day, a day that has been observed on the first Monday every October since it was first declared by the United Nations in 1985. World Habitat Day is intended to bring global attention to the basic human right to adequate shelter.
The problem of housing affordabillty in the Okanagan is a reality, and real action is needed. As the unaffordability crisis worsens, the urgency for more affordable housing goes hand in hand.  Each of these families that we welcome to their homes in Lake Country represent the solution to this growing housing need.
For us at Habitat for Humanity Okanagan, this year's World Habitat Day is especially important because it is a crucial reminder that everyone in our community has a right to a place to live.
"A key ceremony is a symbolic event when new Habitat families are presented with the keys to their homes," says Andrea Manifold, CEO of Habitat for Humanity Okanagan. "Seeing the joy and happiness and the smiles on every homeowner's face when they grasp their keys and open their door to a better future is a wonderous event – because we know safe, decent, and affordable homeownership plays a critical role in helping families build a better foundation for a lifetime."
The government of Canada provided $32.4 million financial commitment over three years (2019-2021) to Habitat for Humanity Canada and its affiliate organizations, including Habitat for Humanity Okanagan. Here in Lake Country, through the National Housing Strategy, the Government of Canada has invested in the construction of these first eight homes bringing Habitat for Humanity one-step closer to creating 414 new affordable homes across Canada.
"Every Canadian deserves a safe place to call home. Across the country, we are working with Habitat for Humanity to build affordable housing to support the health and sustainability of our communities," says the Honourable Ahmed Hussen, Minister of Housing and Diversity and Inclusion. "In Lake Country, this investment will make a real difference in the lives of hard-working families with a place they can proudly call their own."
Habitat Okanagan would like to thank the wonderful supporters who have helped to build this project from the ground up including Harmony Homes, our general contractor, all the organizations who participated in team build days, individuals who have volunteered their time in any way possible and many trades that have kept the project progressing through some challenging times. As with every home dedication, we welcome our community partners and build volunteers to celebrate this event with us.